Effective Strategies for Managing Client Relationships (six CD set)
---
SKU: 409
How to turbocharge your client relationships for maximum satisfaction and profitability

Building client relationships and creating effective sales programs are at the core of a successful business. This session gets to the root of why consumers buy and how the marketplace determines the value of your products and services. These ideas will challenge you to become a value interpreter and boost your business goals to new heights.

This 6-CD program includes the following titles:


Why Should I Buy a Ticket to Your Park?
Boosting Sales Through Value Integration
How to Sell Your Services and Products
How to Promote for Maximum Profitability
How to Satisfy Demanding Clients
How to Pin Down Evasive Clients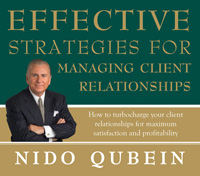 Our Price:
$99
---
---