The Inspiration and Idea Toolkit
---
SKU: 904
This discounted package is an excellent combination of materials for those looking for personal and professional inspiration. These materials will encourage you to find the strength and ambition to achieve your aspirations. It includes:

· The Time Is Now, The Person Is You (hardcover quote book)
· How To Get Anything You Want (hardcover book)
· Seven Choices For Success and Significance (hardcover book)
· Nido Qubein LIVE: Inspiring Presentations to Nourish Your Soul (6 CD audio program)

These learning resources are excellent tools for employees and colleagues. They can be purchased at a discounted price of $99.95 each for 5 or more packages by contacting us directly.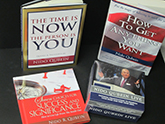 Our Price:
$129.95
---
---