The Keys to Success Kit
---
SKU: 903
This discounted package is an overview of key success principles for business and life. These resources are the result of hard work and experience that make them an invaluable learning tool for others. It includes:

· Stairway to Success (hardcover book)
· How To Get Anything You Want (hardcover book)
· How To Succeed In Business and In Life (6 CD audio program)

These learning resources are excellent tools for employees and colleagues. They can be purchased at a discounted price of $99.95 each for 5 or more packages by contacting us directly.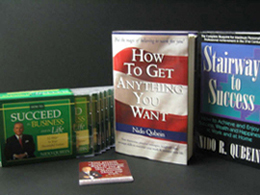 Our Price:
$129.95
---
---